Surrendering Your Pet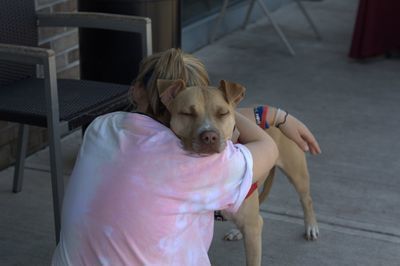 The SPCA of Luzerne County is an open admission facility. If you need to surrender your pet, you must call us to make an appointment at (570) 825-4111.  If we do not answer, please leave your name, phone number, best time to call you back at and let us know you would like an appointment to surrender your pet in the message.  Our staff will return your phone call at our earliest opportunity.
PLEASE NOTE:  If you need to re-home a pet that you previously adopted from the SPCA of Luzerne County, per your contract the pet must be returned to the SPCA. If you have already found a suitable home for the pet, you are required to come to the SPCA with the new family to complete a transfer of ownership.
We strongly encourage you to do everything you can to keep your pet, or to find your pet a new loving home on your own.  Our intake counselors can offer advice or refer you to a professional who can assist. Please consider all options before surrendering your pet, and never abandon your pet.
Things to consider….
Moving?  Perhaps a friend or family member can care for your pet until you can find appropriate living arrangements. Contact local real estate agencies…many manage rental properties and will work with your budget and housing needs to find a place where you can have your pet. You can also try PEOPLEWITHPETS.COM  to locate pet friendly housing.
Not Enough Time?  Most older pets really don't care how long you are gone in the day…just that you come home eventually. Of course, you do have to consider how long your pet will be in the home without being able to be relieved.  If you know you are going to be gone too long during the day, ask a neighbor, friend, family member or accredited pet care professional who can come to your home once a day to take your dog out for potty time and exercise, or simply to just spend some time with your pet. If you have a younger pet, schedule play time and exercise time with your pet.  When you really examine your day to day activities, you will likely find that it is not hard at all to find adequate time with your pet. 
Training Issues?   Basic obedience, socialization and housebreaking takes time, patience and the occasional help from a professional. Many affordable training classes exist for you to work with your pet.  
Having a baby?  It may not be necessary to surrender your cat.  During pregnancy, use gloves and a mask when scooping the litterbox, or have another family member do that job.  After baby arrives, keep the cat out of the nursery by closing the door or restricting the cat to another area of the home.
Domestic Violence?  In domestic violence situations, help may be available. Please contact Domestic Violence Service Center at 570-823-6799 for more information. If you still need to surrender your pet, please contact us below.
Finding a new home for your pet….
Know that it may take several weeks or even a few months to re-home your pet.
Place an advertisement in the PETFINDER.COM public classifieds. Their website offers valuable information on placing your pet, with advice on how to screen potential homes and avoid scams.
Contact your veterinarian and ask to post an ad in his or her office.  Your vet might even have a client in mind to adopt your pet.
Tell your friends, family, and co-workers – if more people know that your pet needs a new home, you will increase your chances of finding the best home.
After you have scheduled your appointment to surrender your pet….
Please click below on either a dog surrender profile or cat surrender profile.  Be sure to include the date/time of your scheduled appointment on the form. Please complete the surrender profile with as much information as you can.  This information is vitally important so we can help your pet.