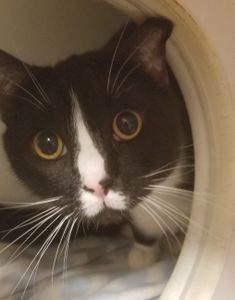 What is the Angel Fund?
The SPCA of Luzerne County mission is to "provide compassion, comfort, and care to domestic companion animals" in Luzerne County. A great way to provide the compassion and comfort to these animals is to keep them in their loving homes. Every year the SPCA of Luzerne County receives over 750 owner surrenders and about 20% say it is for financial reasons. A loss of a job or a major health change can add financial instability to a family and make it difficult to pay for food/litter, emergency vet visits, and other care for pets. Most of these pets are coming from loving homes that are heartbroken leaving their pet. To better serve our community and the companion animals of Luzerne County, we try our best to help those in need keep their pets. Whether it is temporary assistance with a month supply of food or helping pay for emergency medical needs, if the best fit for the pet is to stay in their home, the SPCA of Luzerne County's "Angel Fund" goal is to keep as many of those animals in their homes.
How is the Angel Fund supported?
The Angel Fund is sponsored by the friends and supporters of the SPCA. Thank you to everyone who has donated to help keep these pets in their homes during difficult times. 
How does the Angel Fund Help?
Provides litter or food (Limit 4 months supply during one year).
Helps with funding for emergency veterinary care up to 1/2 the total bill (Limit $500).
Purchase care items such as ramps, wheelchairs, etc. to keep senior pets in their loving homes.
Who qualifies for Angel Fund Assistance?
This program is open to Luzerne County residents only.
Pet & owner must be recommended by an SPCA staff member, emergency veterinarian, or their primary care veterinarian.
Proof of an established, maintained relationship with a primary care veterinarian. There must be a history of regular and routine care.
Pet must have a good prognosis (a high chance of successful outcome.)
Owner has no history of animal neglect or abuse (we will call your primary care veterinarian to verify this information.)
Pet is up to date on state mandated vaccines before leaving the veterinarian's office.
Owner has exhausted all other efforts of payment, including, but not limited to: credit cards, Care Credit, cash reserves, friends/family.
Owner must be willing to allow the SPCA to share their story. Note: Owner's identity can be remain anonymous.
How do you apply?
If you qualify by the above standards, please fill out the application here. The Angel Fund has been made possible through the generosity of our friends and supporters. The program is limited by the availability of funds, food, and resources. The SPCA of Luzerne County's staff has the right to make exceptions on the individuals need, require proof of financial status, and refuse assistance to anyone for any reason at anytime. If you have any further questions or require assistance filling out the form, contact our front desk at 570-825-4111 x 110. Please note that this is a non-emergency line, if your pet is having an emergency call your local emergency veterinary offices.