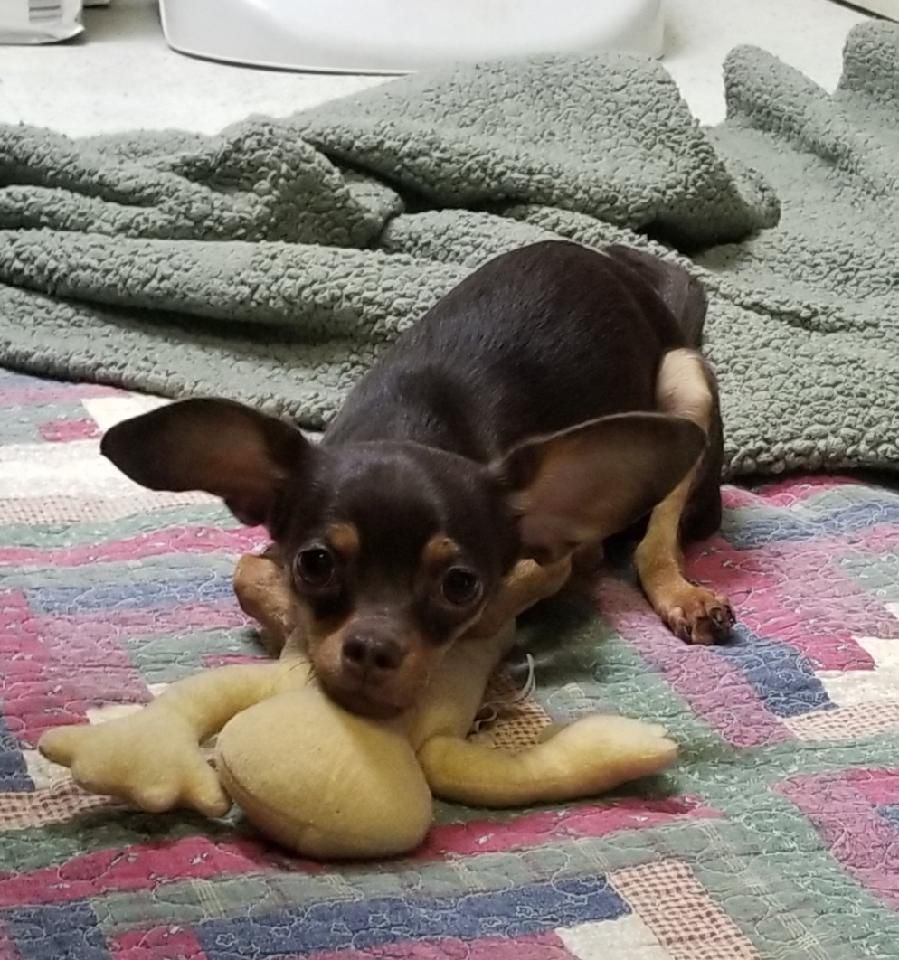 The SPCA of Luzerne County works diligently to protect the abandoned, neglected, and too often abused animals with whom we choose to share our lives. Our life-saving team of Humane Society Police Officers often brings in animals that are in desperate need of care, however, it is not always a cruelty case that brings animals into our shelter requiring special attention, veterinary care, compassion, and love. A warm day in August 2020, a concerned owner with a small Chihuahua named Daisy walked into our shelter. The owner had found herself in the heart wrenching position that required her to surrender her companion. She could no longer provide the care this sweet puppy needed. Daisy was a tiny baby girl just 9 months old and not even 4 pounds; with a debilitating deformity that caused both of her front legs to be unusable and held tightly against her chest. She was unable walk, only shuffling across the floor using her head to pull herself forward. It was painfully obvious this poor baby needed our love and attention if she had any hope of ever realizing life as a healthy dog.
Our dedicated team jumped into action in order to make Daisy's stay with us as comfortable as possible. A home for her, full of lots of comfy places to lie, was immediately set-up in an office so staff could keep a watchful eye over her as she worked to strengthen her legs. Of course, all the while she was stealing our hearts. Daisy initially visited with our veterinarian for diagnosis and a treatment plan. After a thorough exam, x-rays, and diagnostic testing it was determined that Daisy had a genetic ailment that caused her deformity. Without extensive surgical intervention it was highly unlikely that she would ever walk normally again. She needed an orthopedic specialist to perform the much-needed surgery. In the meantime, our staff quickly procured a custom fitted wheel chair to provide some relief. Daisy didn't immediately take to using her wheel chair. It was unfamiliar and scary. She did much better motoring around in reverse than she did moving forward. So, we did the "moving forward" for her. A long term, passionate volunteer made it her personal mission to locate a surgical specialist with the expertise needed to address Daisy's condition. A surgeon willing to see her and assess the problem was found several hours away. Daisy's road to recovery was taking shape. The surgery was performed. Finally, after multiple long road trips, visits with her surgeon, and nights away from the shelter Daisy was on the mend. With time and rehabilitation her little legs started to heal. Her road to recovery will certainly be long and difficult.
Just as we had all fallen in love her, so did Taylor, the veterinary technician who had assisted with her surgery. Taylor decided to adopt Daisy and help her become the puppy she was meant to be. It is through your generosity and kindness that our SPCA is able to provide the compassion, love, attention, and care that these animals so desperately need. With thousands of animals to care for every year we could not have paid for Daisy's special needs without you, our everyday heroes. Thank you. 
If you want to help the next Daisy, consider donating here.