License Your Dog – it's the law!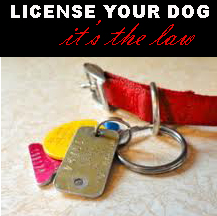 Without identification, a lost dog may never make it home.   Your best friend's best chance to make it home safely is to be properly licensed.  Pennsylvania Dog Law requires all dogs 3 months of age or older to have a current dog license.
General cost is $6.45 (for dogs that are spayed or neutered); $8.45 (for dogs not spayed or neutered).  Senior Citizens or Persons with Disability pricing is available.
You can purchase your annual Dog License at the SPCA whenever the shelter is open.  The Luzerne County Courthouse also sells annual or forever license dog licenses.  Dog license can now be purchased online at padoglicense.com.
If you would like to fill-out the Dog License form and print it off to bring with you click here.